Swipe to the left
Vietnamese Prawn Summer Rolls
Makes 12 Rolls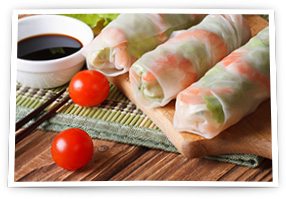 Ingredients:
Vietnamese Rolls
12 rounds of rice paper (medium sized) 24 large prawns, peeled and cooked 1 large avocado 3 cups carrots, grated 1 ½ cups daikon radish, grated 1 ½ cups mung bean sprouts ¼ cup fresh coriander leaves 24 mint leaves
Dipping Sauce
⅓ cup peanut butter (no sugar added) 200ml vegetable stock (or warm water) 2 tsp fresh ginger, peeled and grated 2 garlic clove, minced 2 tbsp tamarind paste (or 4 tbsp lime juice) 2-3 tsp tamari soy sauce 70g coconut cream 1-2 red thai chillies, finely chopped
Method:
Whisk all the dipping sauce ingredients and gently heat (about 3-4 minutes) until smooth and thickened. Leave to cool.
Pour boiling water into a shallow dish and submerge one rice paper sheet until pliable (about 10 seconds).
Put rice paper on a plate or chopping board and add 2 prawns, some avocado slices, carrots, diakon, mungbean sprouts and 2-3 leaves fresh mint and coriander to the centre of the rice paper.
Fold one side over the filling, hold tightly in place while tucking the sides and rolling it tightly closed.
Repeat steps 2-4 until all 12 rolls are made.
Serve with the dipping sauce and any extra coriander leaves for garnish.
You can also have the ingredients on the table and let guests make their own rolls on their plates. Be creative with ingredients, make them with your favourite vegetables. Roasted tofu or scrambled egg can be used instead of prawns for a vegan or vegetarian option.