Swipe to the left
Raw Vegan Blackcurrant Cheesecake
Ingredients: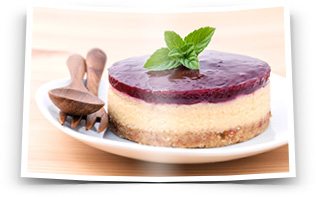 Base:
1 cup raw almonds ½ cup raw walnuts 1 cup shredded coconut 10 Medjools dates (or if using other pitted dates soak overnight) 2-3 tbsp coconut oil, melted
Filling:
3 ½ cups raw cashews, soaked overnight 1 cup coconut cream ¼ cup fresh lemon juice ¾ cup agave, maple syrup, honey or equivalent stevia ½ cup coconut oil, melted 2 tsp vanilla extract ½ teaspoon sea salt 1 cup frozen blackcurrants (or other berries)
Method:
Line a springform cake tin. Blend all the ingredients for the base in a food processor until fine and then press into the cake tin and flatten out the surface. Leave to stand in the fridge.
Drain the cashews and blend them with all the other filling ingredients except for the berries. Blend until completely smooth.
Pour the cream mix over the base and smooth out evenly.
Add the berries to the blender and pulse until completely smooth. You can add a teaspoon of honey or maple syrup if you like it sweeter, especially if you're using blackcurrants as they are quite tart.
Cover the top of the cake with the berry mixture, cover and freeze for about 3 hours. Remove from the freezer 15-20 mins before serving so that it is easy to cut.