Swipe to the left
Ratatouille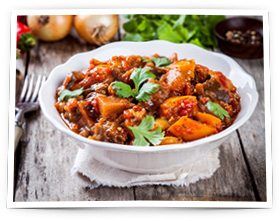 Ingredients:
2 red onions, roughly sliced
4 garlic cloves, finely chopped
2 eggplants, diced to 2 cm pieces
3 courgettes, diced to 2 cm pieces
3 capsicums, chopped to 2 cm pieces
6 ripe tomatoes, roughly chopped
a small bunch of fresh basil, pick leaves off and finely chop stalks
olive oil
3-4 sprigs fresh thyme
400g can chopped tomatoes
1 tablespoon apple cidar vinegar
salt and pepper to taste
Method:
Add 2 tablespoons of olive oil to a fry pan and heat. Add the onions, garlic, basil stalks and thyme and sautee for about 7 minutes or until they begin to soften.
Add the eggplant, courgette and capsicum to the fry pan and add more olive oil if necessary. Cook for about 5 minutes, then add all the tomatoes, vinegar and a pinch of salt and pepper.
Mix thoroughly and cover to simmer on a low heat for about 30-40 minutes or until nicely reduced.
Stir in the basil leaves and further salt and pepper seasoning if necessary.
Enjoy with freshly cooked Quinoa.