Swipe to the left
Oven-Baked Root Vegetable Chippies with Carrot Hummus
Oven-Baked Root Vegetable Chippies - yummy both hot or cold!
Ingredients: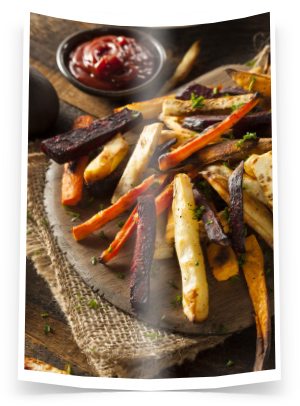 Use a combination of any of the following root vegetables:
carrots, thinly sliced
parsnip, thinly sliced
sweet potato, thinly sliced
small beetroot, thinly sliced
1 tablespoon coconut oil, melted
1 teaspoon smoked paprika
2 teaspoons dried rosemary plus any other dried herbs of your choice
Method:
Preheat the oven to 180ºC.
Line a baking tray with baking paper and lay out your thinly sliced root vegetables.
Drizzle with melted coconut oil, and sprinkle with herbs, spices and sea salt.
Mix with your hands to ensure the vegetables are well coated and spread even on the tray.
Roast in the oven for 25-30 minutes or until your chips are evenly cooked and a little crisp.
These are a great healthy alternative to a typical 'Chip 'n' Dip'! Serve the chips with your favourite dips like hummus, beetroot & feta dip, or tzatziki. Your friends will love you for it!
Carrot Hummus - great for summer picnics and BBQ's!
Ingredients: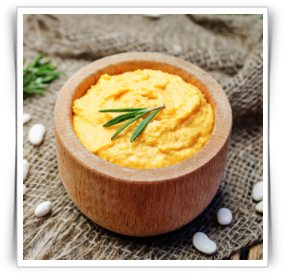 2 medium or 1 large carrot, cut into chunks
Olive oil to coat
1/4 teaspoon whole caraway seeds
1/4 teaspoon ground cumin/coriander mix
1/4 teaspoon curry powder
1 cup cooked chickpeas
½ large clove garlic, crushed
1 teaspoon tahini
1/4 cup extra virgin olive oil
1/2 large lemon, juiced
Sea salt and ground black pepper to taste
Method:
Cover carrots with olive oil and roast in the oven at 180ºC until tender.
Combine the chickpeas and the garlic in the food processor bowl or blender and whizz for a few seconds.
Add caraway seeds, cumin, curry powder and tahini to the mixture and pulse until they are well combined.
Slowly pour the olive oil into the processor. Once all of this is well blended, add the fresh lemon juice.
Lastly add the roasted carrots and blend until combined.Then season with salt and black pepper to taste.
Enjoy with your favourite vege sticks, crackers or root chippies!