Swipe to the left
Low Carb Christmas Treats
Gingerbread Biscuits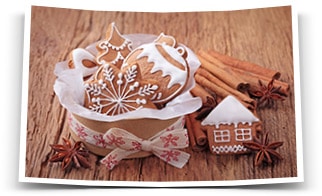 Ingredients:
2 cups almond flour
1 Tbsp ground cinnamon
1 ½ tsp ground ginger
¼ tsp ground cloves
¼ tsp nutmeg
½ tsp baking powder
¼ cup Erythritol
¼ cup coconut oil
1 large egg
1 tsp natural vanilla essence
Method:
Mix the almond flour, spices and baking powder in a large bowl.
In another large bowl, beat the coconut oil and erythritol with a hand beater until well mixed. Then beat in the egg and vanilla essence.
Add the almond flour mixture to the egg mixture and beat until it becomes dough. Roll out the dough between two sheets of baking paper to about half a centimetre in thickness. Transfer to the fridge for about half an hour.
Preheat the oven to 180°C (350°F) and cover a baking sheet with baking paper to place the cookies on. Have another sheet of baking paper ready for the second batch.
Use your choice of cookie cutters to cut the biscuits into the dough. Use a thin spatula or fish slice to transfer them onto the baking tray.
Bake for about 10 mins or until the they begin to turn golden. Leave to cool before transferring them to a plate or biscuit tin.
Healthy Coconut Ice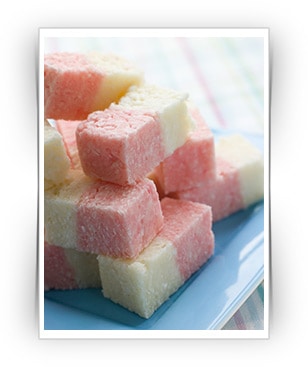 Ingredients:
4 cups dessicated coconut
1 cup coconut cream
1 Tbsp coconut oil
½ cup boysenberries or blackcurrants
1 tsp natural vanilla essence
1 ½ cups organic erythritol
Method:
In a large pot combine the dessicated coconut, coconut cream and erythritol. Allow to boil, then simmer until it becomes a soft mixture. Mix in the coconut oil and remove from the heat.
Transfer half of the mixture into a shallow dish and press it down flat. Place the dish in the freezer to set.
Add the berries to the rest of the mixture in the pot and mix well. You may need to mash the berries to break them up or you can put them in a food processor until smoothly mixed.
Take the dish out of the freezer and add the berry layer on top. Then put the dish back into the freezer for another half an hour or until the top layer is firm.
Slice the coconut ice into peices and serve.