Swipe to the left
Lemon Pepper Chicken Wings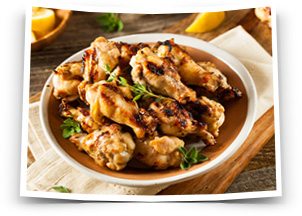 Ingredients:
1.4 kg (3 lb) chicken wings or drums with skin on
6 tablespoons olive or melted coconut oil
2 tablespoons coarse salt
2 tablespoons black pepper, ground
1/4 cup lemon zest
Method:
Preheat oven to 204 °C (400 °F). Line a baking dish that has sides with baking paper.
Mix the chicken, oil, lemon zest and seasoning in a large bowl until the chicken is well coated. Then spread in a single layer on in the baking dish.
Bake for about 40 minutes or until golden brown with crispy skin. Juices should run clear with pink at the bone no longer showing.
Serve with wedges of lemon and Italian parsley for garnish.