Swipe to the left
Italian Meatballs In Tomato Sauce
Ingredients: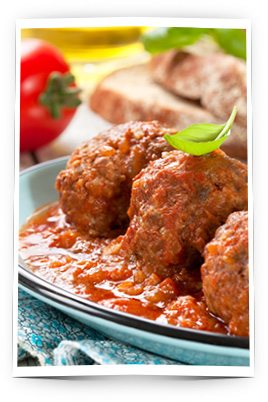 Meatballs (makes 12)
500g beef mince
1 cup bread crumbs
1 tablespoon parsley, finely chopped
1 tablespoon Parmesan cheese, grated
1/4 teaspoon black pepper
1 egg, beaten
Pinch of salt
Tomato Sauce
3/4 cup onion, finely chopped
5 garlic cloves, crushed
1/4 cup olive oil
2 cans whole peeled tomatoes
1 teaspoon sugar or honey
1 bay leaf
4 tablespoons tomato paste
1/2 teaspoon dried basil
1/2 teaspoon dried oregano
1/2 teaspoon black pepper
Fresh basil leaves to garnish (optional)
Method:
Mix mince, bread crumbs, cheese, parsley, pepper and the beaten egg in a bowl. Mix well and form into 12 balls. Leave in fridge until sauce is ready.
Heat a large fry pan on a medium heat and add olive oil, onion and garlic. Sautee until onion is translucent.
Mix in the canned whole tomatoes, sugar, salt and bay leaf. Cover and simmer on a low heat for 1 1/2 hours.
Stir in tomato paste, basil and pepper. Then add meatballs and simmer for another 30 minutes before serving. Garnish with fresh basil leaves.