Swipe to the left
Indian Masoor Dal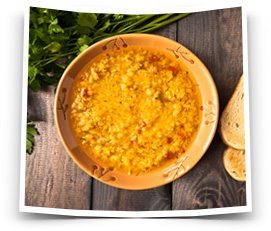 Ingredients:
2 tablespoons olive oil
1 cup Masoor Dal (red split lentils)
2 medium onions (or 75g), diced
4 cups water
4-5 garlic cloves, crushed
½ - 1 dry red chilli (depending on how hot you want the dish) - leave chilli whole
¼ tablespoon whole cumin seeds
Free coriander leaves for garnish
Method:
Rinse lentils in cold water and drain. Add water and lentils to a pot and boil uncovered for about 5 minutes. Then cover, turn the heat down and cook for another 12-15 minutes or until lentils are soft. It will look like gravy.
Rinse the lentils. Then add oil to a seperate pan, add garlic, red chilli, onion, and cumin seeds. Saute for 15 seconds.
Add lentils and salt to the spice mix in the pan and saute for another 5 minutes. If you would like more sauce/gravy then add some more water (optional).
Add coriander leaves for garnish and serve hot with bread or Indian chapathi or Ruti.