Swipe to the left
Eggplant Lasagna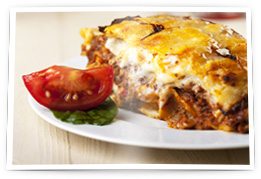 Ingredients:
Lasagna Base:
2 large eggplants, sliced to ½ cm thick slices
4 tablespoons olive oil
Salt & pepper to taste
1.4 kg beef mince, cooked and drained
420 g ricotta cheese
3 large eggs
1 cup parmesan cheese, grated
1½ cups mozzarella cheese, grated
Marinara Sauce
2 tablespoons olive oil
2 cloves garlic, finely chopped
½ onion, diced
½ teaspoon salt
½ teaspoon black pepper, ground
½ teaspoon oregano
½ teaspoon thyme
2 cans chopped tomatoes
Method:
Marinara Sauce
Heat olive oil in a fry pan on a medium heat. Sautee garlic and onion for about 5 minutes or until tender.
Add the rest of the ingredients and simmer for about 20 minutes or until thick.
Lasagna
Preheat oven to 180 °C (or 350 °F). Then place eggplant slices on a baking sheet and brush with olive oil and sprinkle with salt and pepper. Bake for about 10 minutes or until soft.
Combine cooked mince with the marinara sauce.
Combine ricotta, parmesan and egges in a bowl.
Oil a large deep baking dish and layer lasagna in this order: marinara mix, cheese mix, eggplant, cheese mix, sauce and then finish off with mozzarella.
Bake for about half an hour or until cheese is melted and lasagna is bubbling.