Swipe to the left
Easy Zucchini & Carrot Fritters
Ingredients: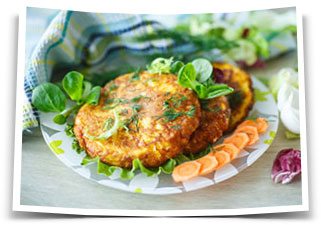 2 medium zucchini, grated
2 medium carrots, grated
1 egg, beaten
1/4 cup parmeasan cheese
1/3 cup quinoa flour
1/2 teaspoon baking powder
1 teaspoon salt
Butter or coconut oil for frying
Method:
Mix half the salt into the grated carrot and zucchini in a bowl and leave to stand for 10 minutes.
Squeeze out any excess water from the grated vegetables. Less moisture will help fritters to hold their form.
Mix in the beaten egg and parmesan cheese.
Combine flour and baking powder and salt in a small bowl.
Form into hand-sized fritters and fry in butter or coconut oil for about 10 mins on each side or until golden brown.
Serve with your choice of salsa, relish or yoghurt dipping sauce. A great addition to kids school lunch boxes!