Swipe to the left
Cheesy Stuffed Capsicums
Ingredients: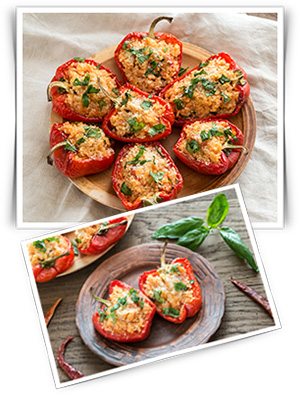 1 cup cooked quinoa or wild rice 2 cups water 1-2 tsp olive or avocado oil 2 cloves garlic, minced 280g spinach, finely chopped 1 tsp dried basil or 4 fresh basil leaves ½ tsp paprika ½ tsp dried or fresh oregano 2 cup cheese, grated plus more for topping ⅔ cup feta cheese, crumbled 4 capsicums (mixed colours if desired) Salt and pepper to taste
Method:
Preheat oven to 180°C (350°F). Add the oil to a pan and sauté garlic and spinach under tender.
Add the basil, oregano, paprika, salt and pepper to season.
Add 2 cups of grated cheese and then stir in quinoa or rice. Once well mixed, remove from the heat and set aside.
Slice the capsicums length ways and remove the seeds and veins.
Stuff each capsicum with the filling right to the top and then cover with cheese.
Place capsicums on a baking sheet and bake for about 10 mins for slightly crisp capsicum or about 20 mins for soft capsicums.