Swipe to the left
Caprese Salad / Greek salad / Nicoise Salad
Nicoise Salad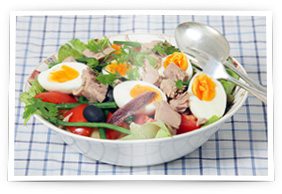 Ingredients
10 x (650g) small chat potatoes / new potatoes, halved 400g baby green beans 425g can tuna in olive oil or springwater, drained, flaked 250g cherry tomatoes, halved ¾ cup black olives 2 baby cos lettuce hearts, leaves separated, washed 4 hard-boiled eggs, peeled, quartered 3 anchovy fillets in oil, drained, halved lengthways (optional) 1 quantity nicoise dressing
Nicoise Dressing:
Ingredients
⅓ cup olive oil ⅓ cup red wine vinegar 1 tablespoon dijon mustard pepper & salt to taste crushed garlic (optional)
Method
Make dressing: Mix oil, vinegar and mustard in a glass jar with lid and shake - add salt and pepper to taste.
Cook potatoes in a large saucepan of boiling water for 10 minutes or until just tender. Transfer to a large bowl.
Add beans to pan. Cook for 2 to 3 minutes or until bright green and just tender. Drain. Refresh under cold water. Drain. Add beans to potato.
Add tuna, tomato, olives, lettuce, egg and anchovies (if using) to potato mixture. Add red wine dressing. Toss gently to combine. Season with salt and pepper. Enjoy!
Greek Salad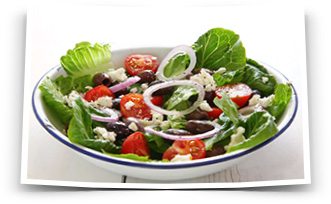 Ingredients
1 red onion, thinly sliced 170g can pitted black olives 1 green and/or red bell pepper or capsicum, chopped 2 large tomatoes, chopped 1 cucumber, sliced 1 cup crumbled feta cheese 6 tablespoons olive oil 1 teaspoon dried oregano 1 lemon, juiced ground black pepper & sea salt to taste
Method
In a large salad bowl combine all of the chopped ingredients and feta cheese.
In a separate bowl or glass jar combine the oil, lemon juice, dried herbs, pepper & salt and mix well.
Pour this over the salad and mix well. Enjoy!
Caprese Salad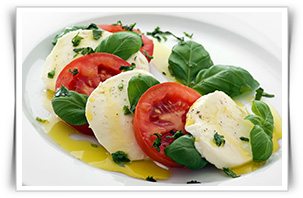 Ingredients
3 or 4 large tomatoes - cut into ½ inch slices 1 or 2 fresh Mozarella cheese - cut into ¼ inch slices ½ cup fresh basil leaves, whole leaves or sliced ¼ cup olive oil pepper & salt balsamic glaze (optional)
METHOD
On a flat serving platter layer alternate slices of tomato, mozarella and then basil.
Sprinkle sea salt and cracked pepper over the salad, and then drizzle over the olive oil.
A drizzle of Balsamic glaze is lovely too (can be bought or home-made using balsamic vinegar & honey).