Swipe to the left
Baked Ginger & Garlic Tofu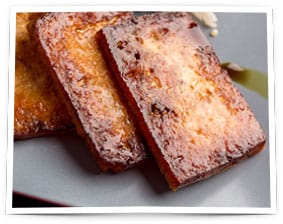 Ingredients:
450g firm tofu
4 Tbsp tamari soy sauce
2 Tbsp toasted sesame oil or olive oil
3 medium garlic cloves, finely chopped
2 tsp fresh ginger, finely chopped
2 Tbsp black sesame seeds
1 fresh red chillie, finely chopped (optional)
Method:
Slice tofu block into 1cm thick slices. Press each slice to get as much water as possible out.
Combine all the ingredients in a shallow dish and leave tofu to marinate for about an hour.
Preheat oven to 180°C (350°F).
Cover baking tray with baking paper. Remove the tofu slices from the marinade and arrange on the tray. Spoon some marinade over each slice.
Bake for 20-30 mins, then turn over each slice, spoon on some more marinade and bake for another 20-30 mins.
Serve warm with a fresh salad or steamed vegetables and rice.