Swipe to the left
Almond Butter Biscuits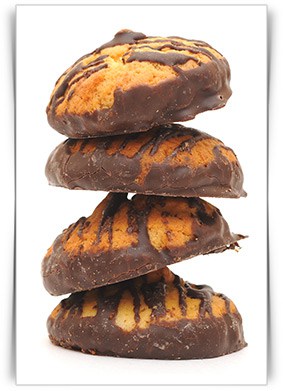 Almond Butter Biscuits
Ingredients:
1 ½ cups almond butter
2 eggs
¼ cup oat or chickpea flour
1 tsp baking powder
pinch sea salt
Melted dark chocolate for topping (optional)
Method:
Preheat oven to 180°C (350°F).
Beat eggs in a medium mixing bowl.
Add baking powder and almond butter and mix until everything is well-combined. Let the dough sit in the fridge for 20 minutes.
Line a baking tray with baking paper.
Roll dough mixture into balls and place on the tray. Lightly flatten the balls with your palm.
Bake for 10 to 12 minutes. Allow to cool on the tray for 10 minutes before transferring to a plate or wire rack to cool completely. (They're more likely to fall apart if you don't give them this cool time on the tray).
If topping with chocolate, either dip cooked cookies in melted chocolate about halfway or you can also drizzle the chocolate on top of the biscuits. Let the chocolate harden, then enjoy. Store in an airtight container for up to 5 days.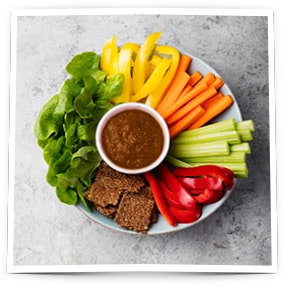 Almond Butter Spicy Dipping Sauce
Ingredients:
2 Tbsp almond butter
2 Tbsp warm water
1 Tbsp tamari/soy sauce
1 Tbsp fresh ginger, grated
1 garlic clove, crushed
1-2 tsp chilli sauce or sriracha
Juice of ½ a lime
Method:
Combine all ingredients together and mix well.
Serve with fresh crunchy vegetable sticks of your choice like carrot sticks, celery sticks, capsicum or cucumber.
This spicy-savoury sauce is a fantastic dip for raw vege sticks! It could also be used with stir-fried vegetables.